You want to go new ways with your company, organize meetings or give seminars? Then you and your team can soon think new ways in a breathtaking volcanic scenery.
Lanzarote is considered to be a place of inspiration. The island of eternal spring with its numerous volcanoes, black and white sandy bays is the ideal place to come together in a positive and sustainable way. At the edge of Timanfaya Park and at the beginning of the wine route, our beautiful Finca Curbelo is located in the small and quiet village of UGA. Our resort "Finca Curbelo" convinces your partners and clients with detailed and stylishly furnished themed apartments such as a large saltwater pool. The environmentally friendly finca draws its resources from the latest technology such as solar panels and heat pumps. The quiet location is perfect for slowing down from everyday life and focusing on new goals. Due to the fully equipped kitchen it is also possible to cook in a team. Culinary specialties and events such as "Italian evening" with musical accompaniment can be organized by us through partners.
Conference room "OASIS VERDE" at a glance:
– Conferences up to 14 persons
– Eco-house with modern technology
– Salt water pool 15,00 by 6,50 meters
– On the edge of the Timanfaya National Park
– Sports facilities, hiking routes from the finca
– Bodegas with delicacies and regional wines in the immediate vicinity
THE CONFERENCE ROOM WILL BE BOOKABLE FROM 1ST JUNE 2023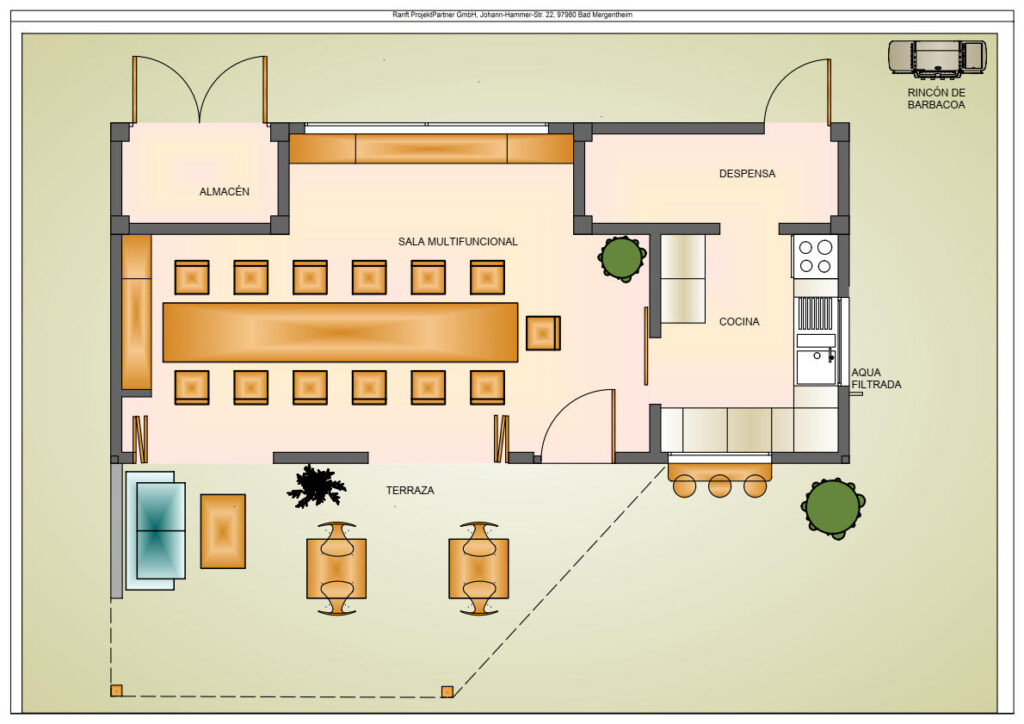 Construction of the conference room in January
From 8th to 21st January 2023 we will start the construction of the meeting and seminar room in our large garden of our Finca Curbelo. For this period we have blocked bookings on our website. The seminar room is suitable for up to 14 participants and has modern technology, a fully equipped kitchen and an outdoor grill. The quiet location with an open view of the magnificently landscaped garden with over 40 cacti, palm trees and trees opens the perception and strengthens the focus.
We look forward to welcoming you soon as a team or seminar group. More details will follow soon.